For a number of years, I was overly involved with my state chapter of USGBC – in a good way. I loved working with others who had a passion for sustainable design and even managed, prepared and hosted study groups for the LEED Green Associate Exam for a number of years.
I found after moving to the Big City, that LEED was everywhere and talk about a win-win! Now, I know what LEED is, and I internally congratulate buildings that have a plaque on their walls, but, I don't think everyone is fully aware of what LEED is – and why it is so important. So, I decided to give an incredibly brief overview, enjoy!
Why sustainable buildings?
USGBC
The USGBC (U.S. Green Building Council) was first brought to the Architecture and Design community in 1993  when Rick Fedrizzi, David Gottfried, and Mike Italiano cam together to create a single mission:
The organization is responsible for creating the certification for sustainable buildings and accreditations for sustainable designers, architects, engineers, etc.
LEED
LEED (Leadership in Energy and Environmental Design)  is certification and accreditation program that recognizes building strategies and practices, and individuals who have a best-practice knowledge of how to design and build these premiere buildings.
Here is a timeline of the LEED Certifications:
1998: USGBC launched first pilot – LEED version 1.0 in August
2000: USGBC launched LEED Green Building Rating System version 2.0
2005: USGBC to pilot LEED-certification program for homes
2005: LEED has 2000 certified buildings in U.S.
2007: LEED Platinum 4-Unit Kenton Living Building in Portland, OR, is world's first certified "Living Building"
2007: LEED rating system release of version 3.0
2009: USGBC launches LEED-Neighborhood Design (ND) integrating principles of smart growth, urbanism and green building
2013: LEED v4 announced at Greenbuid
CERTIFICATION LEVELS
Certification levels determine the level of achievement the building or neighborhood has within the LEED program and it's designated rating system.
RATING SYSTEMS
There are a number of different rating systems associated with the LEED program ranging from homes and neighborhoods to office buildings and hospitals. Each rating system addresses the unique needs of all potential project and building types to help achieve the greatest payback, in terms of sustainability, possible.
CATEGORIES
Categories within each LEED rating system can vary slightly, may emphasis one category more than in another, or may not appear from one to another depending on the rating system. These categories help to determine the number of prerequisites and credits the design team needs to achieve in order to receive a particular level of certification
ACCREDITATION
Accreditation types are given to individuals who have an understanding an knowledge of the LEED program and sustainable design. There are currently three tiers in the LEEDv4 system
LEED Green Associate
An individual with a basic knowledge of sustainable design. A potential LEED Accredited Professional must first pass this exam before pursuing a LEED AP with Specialty.
LEED AP with Specialty (BD+C, ID+C, etc.)
This individual has passed the Green Associate exam and has a working knowledge of the system in which they tested for (ex. a LEED AP ID+C has a working knowledge in the design, construction and improvement of commercial interiors and tenant spaces.) A person may test for more than one accreditation at this level but must be aware of additional CEUs to maintain an "active" status.
LEED Fellow
A LEED Fellow is in a class all their own. Whereas other accreditations require an exam to achieve the title, a LEED Fellow must be nominated to prove they are masters in sustainable design and have made significant contributions to education, mentoring, and research.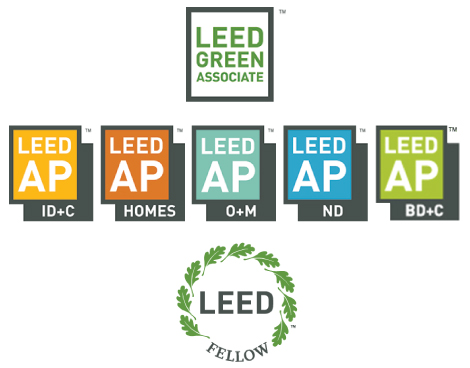 OTHER ACCREDITATIONS TO BE AWARE OF
Green Rater
An individual who can verify the process, quality assurance, and oversight for LEED BD+C: Homes and LEED BD+C: Multifamily Midrise
Green Classroom Professional
An advocate for more environmentally responsible and healthier places to teach and learn.
LEED AP
For most, this is a grandfathered in title before the LEED 2009 version. The program states that once an individual has received "Accredited Professional" status, the title remains. However, if the individual does not keep up their knowledge in increasingly changing sustainable design through CEUs, they will not be able to claim the title of having a specialty.
LEARN MORE
To learn more about LEED, click the image to the left.
LEED 101: Green Building Basics & LEED